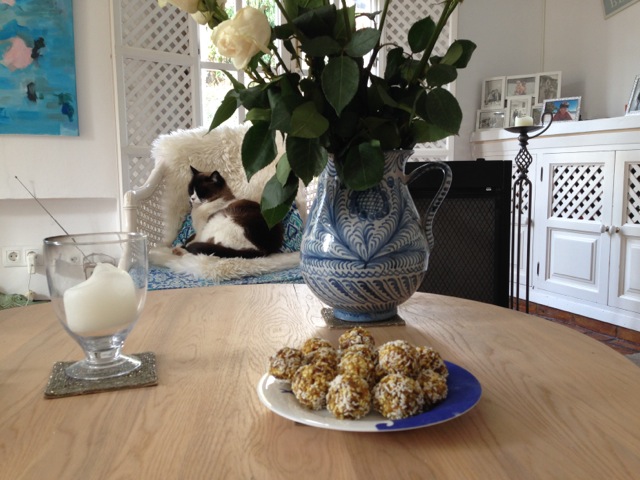 INGREDIENTS
1.5 cups of soft dates – (remove the stones)
1 cup cashew nuts ( unsalted)
1 tsp. turmeric powder
Finger size piece of fresh ginger sliced thinly
Couple of drops of orange essential oil. ( Edible grade I use is Orange + from Young Living. You can use that link to sign up and a get 24% discount from all the products you buy.)*
Pinch of sea salt
Pinch of vanilla powder (optional)
Pinch of black pepper (optional)
METHOD
Place all the ingredients in a food processor and pulse till all the ingredients combine well and you can still see pieces of nuts in the mixture.
You can refrigerate the mixture for 20 minutes and then equally divide the mass into individual portions and form the balls.I make about 16 from this quantity.  You can coat the balls with any toppings that you fancy... sesame seeds, super food powders, bee pollen, freeze dried fruit pieces...... whatever you can think of. I used desiccated coconut today.
Keep refrigerated. Eat within 1 week after preparation.
They are such a healthy rich treat, you´ll be hard pressed to keep them a week !!
*Click on this link to view a PDF with detailed information about the Orange + product.