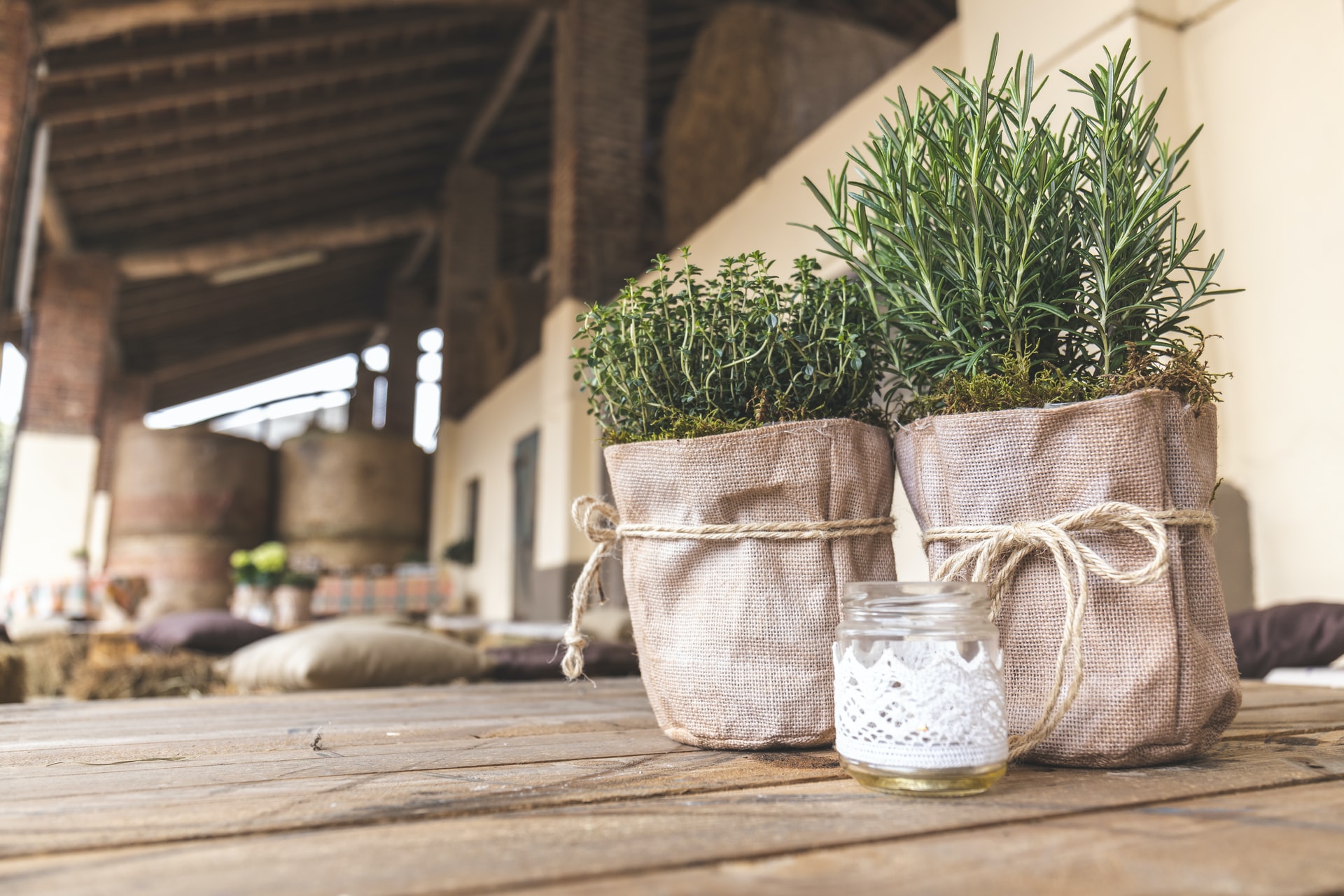 The Rosemary plant has been a popular plant in our medicinal herb gardens for centuries. The fresh, aromatic fragrance of this perennial bush is unique in nature. Rosemary is the 'conifer' among the Lamiaceae family, uniting many of the properties of the needle-leaf oils with those of the flowering plants, making it a multiple healer with many faces. The scent is so recognisable and familiar due to it's wide spread use for a variety of health needs and applications.
Rosemary is a well known herb native to the Mediterranean region, abundantly growing wild in many Mediterranean and North African countries. The odour character of Rosemary oil varies according to where the plants grow (altitude and climate), what plant parts are distilled, and whether the plant material is fresh or dried when distilled. It was sacred to the ancient Greeks and Romans who used it as a symbol of regeneration and employed its aromatic qualities in incense. Shakespeare too seemed to know the effects of this plant when he claimed, in the words of Hamlet's Ophelia, "There's Rosemary, that's for remembrance."
Rosemary (Rosmarinus officinalis) essential oil is available in 6 different chemotypes (ct.), each of which has different natural chemical components and therefore different usages. The differences between any two of the chemotypes of rosemary are as different as the taste and chemical components between white potatoes and sweet potatoes. They may have the same name and the plants look similar, but the vitamins and nutrients within are not even close to one another. Rosemary's chemotypes are: Camphor, Borneol, Cineole, Limonene, Verbenone and Pinene.
Rosemary ct. Verbenone is herbal, fresh, and soft with a quieter aroma than ct. Camphor. The essential oil helps the mind feel clear, yet relaxed. It's perfect for settling in and focusing on a good book. Rosemary can also have clarifying, restoring effects for the skin and the breath. On the hair Rosemary ct. Verbenone is said to stimulate hair growth and it is one the oil I always add to my hair after I have washed it, to give it shine and lustre. Even between washes just to flatten those pesky fly-away hairs I add a drop or two of this oil and it refreshes my hair and my mind.
Rosemary ct. Camphor is herbal, woody, and freshly camphor-like. The essential oil awakens the senses and sharpens the mind! It's been used throughout history for concentration, especially when mental performance needs to be sharp and clear. Rosemary oil ct. Camphor can also help ease soreness out of the body, inviting vigor and strength. However I prefer not to use the camphor chemotype for general use because camphor is a constituent that is potentially neuro-toxic.
The chemotype of the organic essential oil we use in our "Focus" roll on is cineole or 1.8 cineole. When blended with Peppermint and Atlas Cedar wood it makes for a very stimulating blend that helps you focus ( just as it says on the bottle!) yet remain calm ( thanks to the Cedar wood.) Alternatively you can spritz your face with rosemary hydrosol while focusing on a project to encourage concentration and productivity.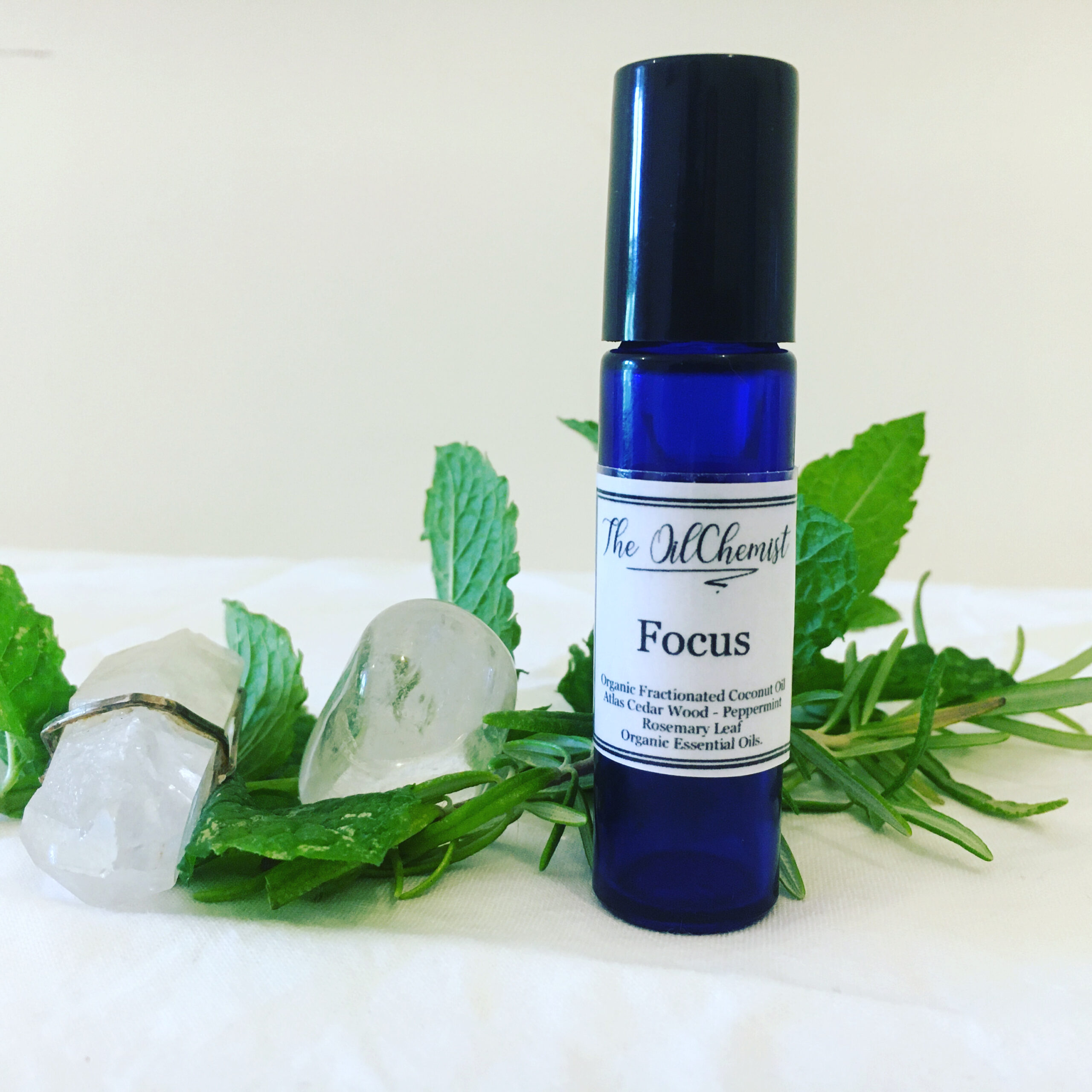 My 'Focus' Roll On has Rosemary (ct. Cineole) as part of it's blend, you can read more about it by clicking here.
Rosemary ct. Cineole (or 1,8 Cineole) has a strong, fresh and penetrating aroma. It's woody-herbaceous notes have a somewhat minty-green back note too, making it a very complex aromatic oil. This is often the oil used in the perfume industry where it is adulterated and therefore not a pure essential oil, so be very careful when sourcing your essential oil products that you are getting a pure oil and you know what chemotype you have bought.
In general a good guide to chemotype is the place of origin. Morocco and Tunisia is usually a Cineole chemotype. Spain or France is often of the Camphor chemotype, but Spain also produces a lot of alpha-pinene chemotype, and in Corisica ( off France) the Verbenone ct can be found. So looking at the place of origin on the bottle can also be a good guide if it the exact chemotype is not stated.
Photo by Luigi Pozzoli on Unsplash